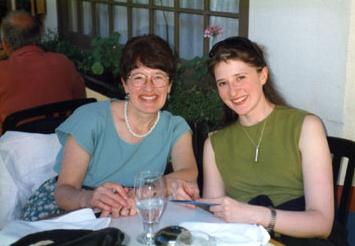 Synopsis
In my novel, Falling for Botticelli, a mother-daughter combo–Meredith (around 40) and Gelsey (19)–try one more time, in the summer of 1991, to fall for Botticelli together. In this finished manuscript, it takes them 360 pages, or 80,000 words to discover they can't do it. The countries they each know well, Germany for Gelsey, Italy for Meredith, conspire to entice them together only to tug them apart until, at their last stop in Rome, daughter Gelsey rides off on a motorcycle with an Indiana student-abroad who serenades her with an aria from
La Boheme
. That's just what Mom wants, isn't it?
Reaching this ambiguous, fairy-tail ending, the feisty, loving duo must perform feats, and endure trials. The first occurs in Nuremberg, when Gelsey discovers that her host mother from her high-school German trip is now dying of breast cancer. Mom, who speaks no German, takes a long time to understand this. She's afraid her daughter's grief will swamp their art talk and culture-swap.
By Munich, the journal entries they've been sharing turn inward as Gelsey first teases Mom with tales of skinny dipping with gay-guy friends from her German trip, and afterwards writes solo about the hazing of these friends in East Germany. (It's the first summer after the Berlin Wall came down.) An encounter with a cruel waitress in the German Alps sends Mom into memories of her mother's abuse one North Dakota vacation long ago.
When a boy/girl in shimmery silver calls to Gelsey and Mom from the Munich underbrush, the pair adopts him for an hour. He and his "minder" will reappear, acting out various strange forms of adult/child bonding and pandering.
In Florence, heat threatens to entomb them. Gelsey spurns a workman's proffered flower. Their art talk in the Uffizi Gallery turns personal: Mom recounts a high school friend's unwanted pregnancy. Hearing this probably won't spur Gelsey toward romance. Mom reluctantly buys Gelsey a heart necklace on the Ponte Vecchio. In the Carmine Chapel, Gelsey flirts with an exchange student from Indiana. Afterwards, gypsy children try to steal the heart necklace off Gelsey's neck. Gelsey gives it to them.
Stalking away, she meets up with the guy from Indiana and they share a kiss. Gelsey writes one more journal entry about being joined at the hip. Mom reads it, before they decide to close their journal exchange for good. By Rome, Gelsey is belting Madonna's "Like a Virgin," over the roar of traffic. One last time the boy in shimmery blue runs through their lives, and into Roman traffic. Mom and Gelsey mourn his death, and their own closeness which is changing with the daughter's independence. She's finally ready when serenaded by the guy from Indiana, and they speed away into the Roman twilight. It's the most perfect ending she's ready for.