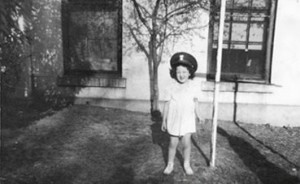 Yankee Outsider
When my Italian-American father took a job teaching history at The Citadel, the military college in Charleston, South Carolina, our family of four acquired an identity as Yankee outsiders. Artifacts from my parents' European travels decorated our Old Citadel apartment. On Saturday mornings, my father sang opera and pinched my cheeks with pizzichilli, little pinch kisses. My librarian mother read to us about Laura Ingalls Wilder, reminiscent of her North Dakota childhood. Yet on the Charleston streets, I absorbed an entirely different life. Families cooled off on their high porches, Spanish moss swayed from live oak trees, and I tried to decipher the drawls of different voices. It was the beginning of an interior life.
A new Career
We kept leaving Charleston to visit relatives—my father's Italian-American relatives in Pittsburgh, Camden, Washington, D.C. My mother's German-Swedish hometown of Hankinson, North Dakota. Train and car trips every summer with stops for art museums and historical sights–it was no surprise that when I left South Carolina for good, it took me almost a decade to settle down. Goucher College near Baltimore, Columbia graduate school and a publishing job with Doubleday in New York, then two years in Kansas City where I began writing book reviews and a novel about South Carolina in the Civil Rights period—the one-time alien now was nostalgic for home.
Settling in Minnesota
I have lived in Minneapolis/St. Paul longer than any other locale. Its stern winters and soothing mourning doves, houses with attic gables and flowering lawns remind me of my mother's Midwestern roots. After raising my daughter and finishing a Ph.D. in American Studies at the University of Minnesota—using the novel about civil rights for my thesis, plus an extra 200 pages of bibliographical analysis—I taught for years as a writer-in-the-schools, sometimes greeting the Green Giant or Paul Bunyan as I rolled into town Sunday afternoons.
Teaching
The outsider as creative guide now finds literary and educational expression
teaching undergraduate and graduate writing and humanities courses
writing books and essays on historical and cultural subjects published by Teachers & Writers Collaborative in New York
conducting oral histories with potato farmers, women artists, pottery factory workers, river communities, some of which become readers-theater scripts performed by the people themselves
translating the visual arts into words, most significantly writing an oral history memoir with Minnesota Ojibway artist George Morrison, Turning the Feather Around. Morrison was honored with a solo exhibit at the opening of the National Museum of the American Indian in Washington, D.C.
Influences
As poet and nonfiction writer, I've studied with Peter Meinke, Lisel Mueller, Patricia Hampl, Eavan Boland and Vivian Gornick and Richard Hoffman. I've published poetry and prose in tiny mimeographed rags, nationally recognized journals like the Iowa Review, Sing Heavenly Muse, Milkweed Chronicle, the Great River Review, the Louisville Review, Spoon River Poetry Review, Poetry East, and Turtle Quarterly. I've also published prose and poetry in a wonderful medley of nine anthologies, of which the 2014 Saint Paul Almanac, County Lines (poems for each of Minnesota's counties)
and To Sing Along the Way: Minnesota Women Poets from Pre-Territorial Days to the Present are the most recent. My book-length collection of poetry, Between the Houses, was published by the Laurel Poetry Collective, during its decade in existence. That experience of designing, marketing, and managing our public presence for readings and teachings was particularly fulfilling.
Travel remains at the heart of my creative identity. I've published travel essays, notably in the anthology, The House on Via Gambito from New Rivers Press. My poems also draw on travel, especially to Italy and Germany.
Current Projects
From those travels, I've created a fictionalized memoir, Falling for Botticelli, based on a trip my daughter and I took to Germany and Italy after her first year at Carleton College. There's a synopsis and an excerpt from the manuscript in the section on "Works in Progress."
I'm also completing a saga, based on the lives of a high-seas couple, Libby and James Jackson Jarves, who lived in Hawaii during some of its most tumultuous changes. They lost several fortunes, almost ended their marriage, shifted their allegiance to Europe and entered an entirely different life, stirred by literary and artistic ferment and the Italian Risorgimento. Through this period, James gathered the first American collection of early Renaissance paintings, not particularly valued at the time, but now part of Yale University's collection.